SIMPLICITY OF COMMUNICATION
Whether you are a tax resident in France or outside France, of French or foreign nationality, LBMB Notaires' specialists in international private law will assist you by adapting to your needs and by offering you videoconference meetings.
Our teams can assist you in English, German and Portuguese.
BUYING A PROPERTY IN FRANCE
Buying a house, an apartment, offices, etc.
Our teams will accompany you through all the steps involved in the purchase of a property in France.
From the offer to purchase to the signing of the final deed of sale, we are at your side throughout the acquisition process.
Calculation of the acquisition costs,
Legal analysis,
Proxies,
Translations,
Production of an audit report in your language, etc.
SELLING A PROPERTY IN FRANCE
Our team assists you from the moment you put your property up for sale:
Opinion of value, realization of the diagnoses, real advertisement, visits, selection of the candidates purchasers,
Calculation of real estate capital gains, appointment of an accredited tax representative,
Approaches to the authorities, etc.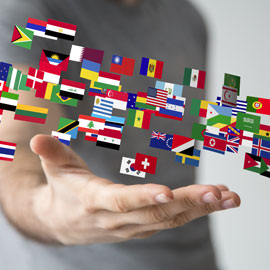 LIFE AS A COUPLE
Do you know that the presence of a foreign element in your couple (nationality, place of marriage, expatriation,…) can have an impact on your matrimonial regime and on the composition of your patrimony?
After having analyzed your situation and determined the applicable law, LBMB Notaires will be able to advise you on the solutions to be considered.
TRANSMISSION OF ASSETS
You wish to pass on your assets :
One of your children lives abroad ?
You live outside France ?
You are of foreign nationality and live in France ?
What are the taxes? What are the costs ?
We advise you according to your situation.
INTERNATIONAL SUCCESSION
Deceased or heirs residing outside France,
Properties abroad,
Law applicable to the succession, etc.
Our team of experts in international private law will be able to assist you in the specific procedures and regulations of an international succession.